Last week I wrote about being inspired by a bolt of fabric to make a quilt for someone I love. Sometimes though, it is the desire to make a quilt for a loved one that comes first. In the past year, two people I care about were diagnosed with breast cancer. Because neither of them live close enough to me that I could be sitting by their side as they received chemo or at their homes filling the freezer with soup, I felt powerless to help. So, I did the one thing that I knew I could do to provide them some comfort and to show my love and I made each woman a quilt. In each case, the design developed by focusing on some aspect of the woman's personality or background.
The first one I made I call "Shoes and Bags" and it was for a friend who is always better turned out than I am.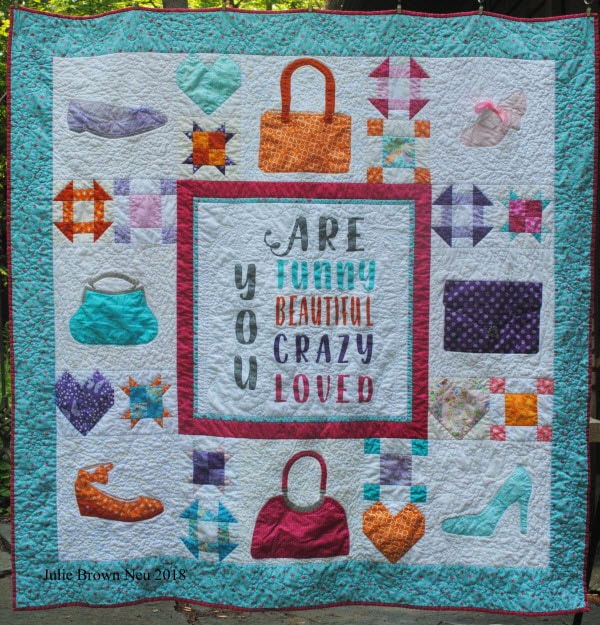 Read more about it here: https://julieneu.com/2018/11/01/shoes-and-bags/
The second quilt that I made last year went to a dear cousin of mine who got a degree in horticulture, started her career working in nurseries, and now runs a liner farm with her husband (in addition to having a full-time lab job).  Because she and I both grew up in Virginia, I based the quilt off an antique botanical album quilt in the Virginia Quilt Museum's collection.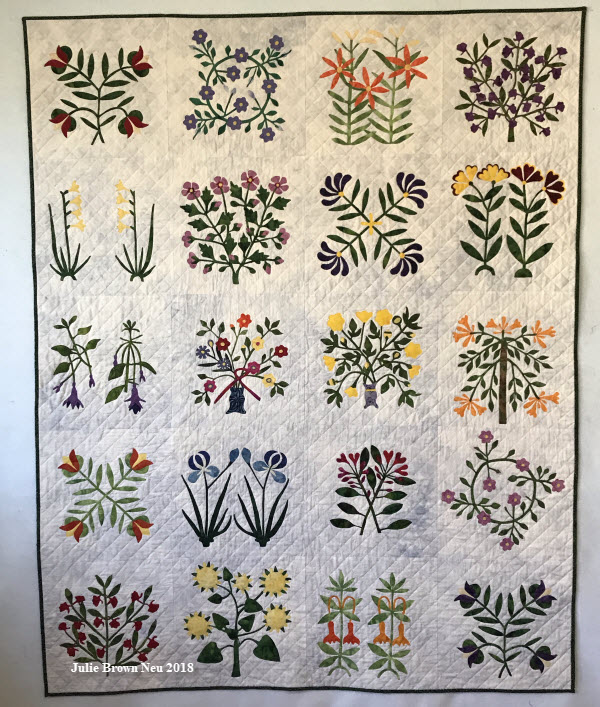 Read more about it here: https://julieneu.com/2018/12/24/shenandoah-album/
I don't only make quilts for loved ones with breast cancer, thankfully. Last year seemed to just be a particularly bad run. But when I make quilts as gifts, the process is often the same. Once I decide that I am going to make a quilt for someone, I think about:
The purpose of the quilt, which often helps define the size. I think about whether I want to make a piece of art for their wall, a throw, or a quilt to fit their bed.
The personality of the person who will receive the gift. What are their favorite colors? What do they love? Where do they live? Is there something particular about their personality or their background that I want to highlight?
When I sat down to design the quilt for my nephew's big boy bed (which I doubt is still on his bed since he celebrates his 11th birthday this week), I decided that I wanted to use airplanes as a motif. It's a motif that's common for boy quilts, but because he was a toddler in a town 20 minutes from a major airport, "airplane" was one of his first words and I wanted to celebrate that in his quilt. It adds a layer of meaning to the story behind his quilt.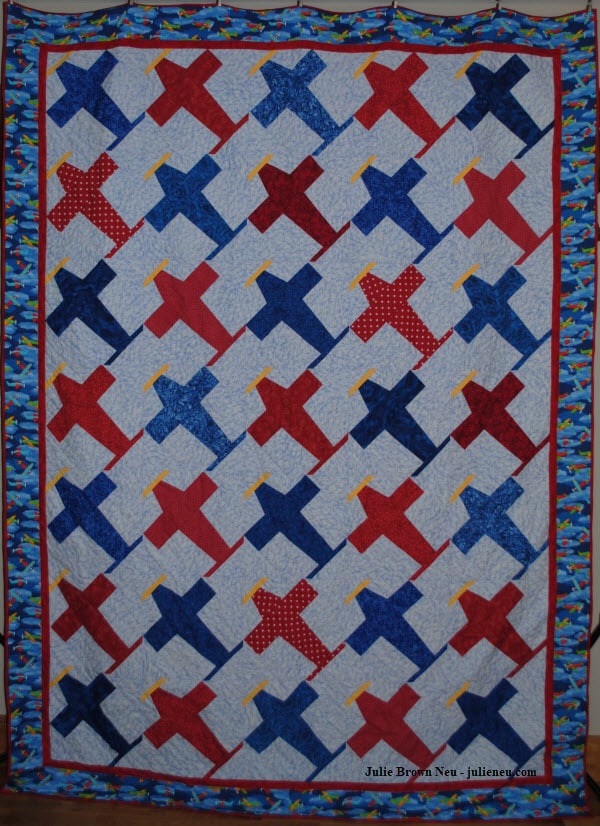 I've used the same process when coming up with designs for other quilts that I have made as gifts and even for the quilt that I finally got made for my own bed:
Navajo Rug
Grandpa's Waves
Sock Monkey
Master Carpenter's Square