The success that I had recently with precision piecing thanks to Judy Collins has inspired me to finally start a project that has been in mind for years. I have long wanted to create geometric tiles and have tried a few methods (batik, ink, etc.). I don't love doing applique so I didn't want to go that route. I really wanted to accomplish the tiles through piecing, but was scared away from it because so many geometric tiles are based on star designs that would require a lot of Y seams. But, I figured that if I could create the tiny quilt blocks in the Mastering Precision Piecing book, I could probably handle the Ys so I did it: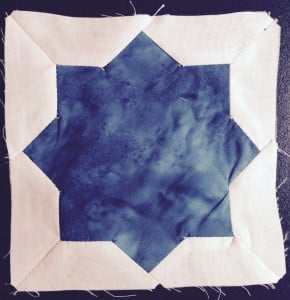 The final size of that block is about 4 1/2 inches square. It's not perfect, but it's not too bad either so today I made the test block for my first geometric tile quilt:

The next step is to make a bunch more of those and begin making the quilt. Stay tuned!