I am getting started with the 2021 American Patchwork & Quilting UFO Challenge, though I prefer to think of the projects I am working on as "Works-in-Progress" rather than UFOs. "Unfinished Object" feels like it comes with some judgment, whereas I like to think that I am merely continuing work that is already started. Still, we won't talk about how many years (decades) some of these projects have been in process.
The projects on my list range from finally putting labels onto a couple of quilts to figuring out what to do with some orphaned blocks to quilting some tops that I have made. This month, I have pulled out an antique quilt that needs some repair.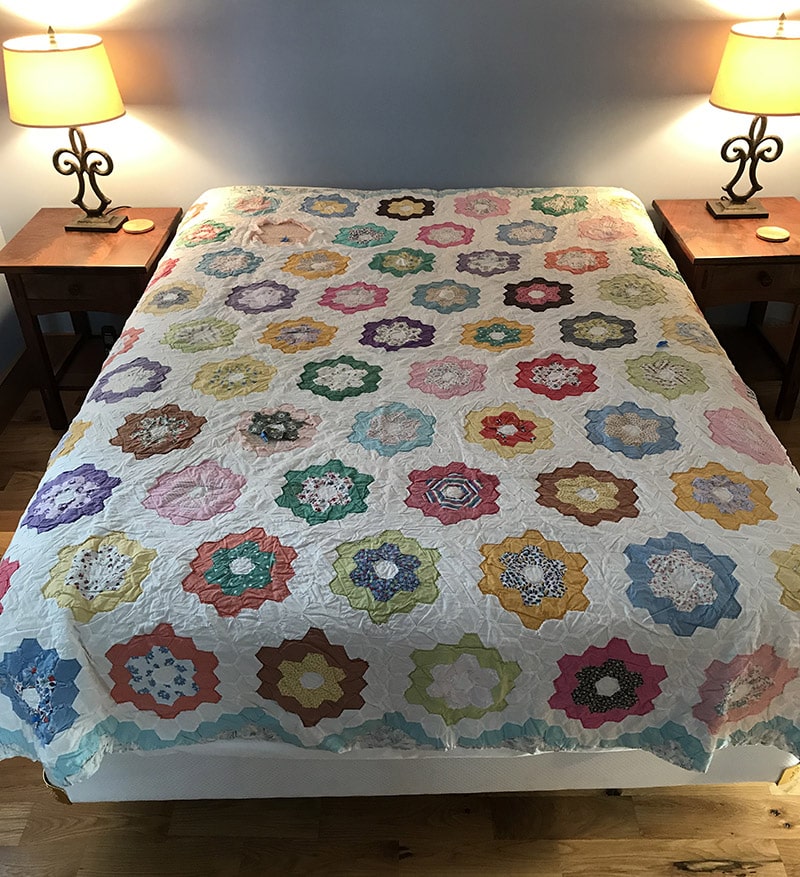 This 1940s Grandmother's Flower Garden quilt was a top that my great grandmother bought at a sale. She then layered it over a pink polyester blanket and an old embroidered bed sheet and loosely quilted it to create a utility quilt that my grandmother had on a guest bed. On one of the rare occasions that I slept over at my grandmother's house (she lived next door and my parents had cows to milk so they never went away), I remember lying under this quilt next to my sister while Mom B read us a story ("Are You My Mother?").
The quilt has been used and surely thrown into a washing machine and dryer a few times so it needs a little love. One of the hexagons has come out completely and a few others have shredded fabric that needs replacing. So, that is January's project.